Umdoni Local Municipality

OVERVIEW
Contact Details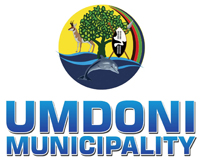 Postal: PO Box 19, Scottburgh, 4180
Physical: Cnr Bram Fischer & Williamson Streets, Scottburgh
Tel: 039 976 1202 / 039 978 4313
Fax: 039 976 2194/2020
Web: www.umdoni.gov.za
Geography, History and Economy
Area: 238km²

Description: Umdoni Local Municipality is located under the Ugu District Municipality in the KwaZulu-Natal province. It is made up of 10 wards, most of which are rural areas. Umdoni Municipality covers the areas of Amahlongwa, Amandawe, Umzinto, Ghandinagar, Shayamoya, Park Rynie, Scottburgh, Hazelwood, Asoka Heights, Malibu Heights, Pennington, Sezela, Ifafa, Bazley, Mtwalume, Malangeni and Esperanza.

The municipality can be divided into three major land uses, being commercial agriculture, traditional authority areas and coastal urban nodes. The coastline stretches approximately 40km. The town of Scottburgh is approximately 50km from the city of Durban and 65km from Port Shepstone.

Cities/Towns: Pennington, Scottburgh/Umzinto North

Main Economic Sectors: Commercial agriculture
Part of Vulamehlo Local Municipality was merged into Umdoni Local Municipality on 3 August 2016. The Demographic, Financial, Employment and Service Delivery information displayed here does not include Vulamehlo Local Municipality. View historic information for Vulamehlo Local Municipality.